Discipline System
The school endeavours to keep rules to a minimum, but it does expect them to be observed and requires both students and caregivers to sign a declaration that they will in fact do so. This is a condition of enrolment and refers to the Code of Behaviour, the PB4L PRIDE Values and the Uniform Regulations.
Student Behaviour
The school has a responsibility to all students to set high standards of behaviour and to encourage good attitudes to learning and to other people.
PB4L
PB4L stands for Positive Behaviour for Learning. Some students will know about this because their previous school will have been a PB4L school. PB4L is a school wide plan to acknowledge the positive behaviour that most students demonstrate, instead of focusing on negative behaviour. Teachers will help you do the right thing by teaching you the behaviour that we want to see and letting you know when you are behaving correctly. Post cards will be sent home as well to let your parents know how well you are going.
Papanui High School behaviour expectations are described in our Pride values.
These values are: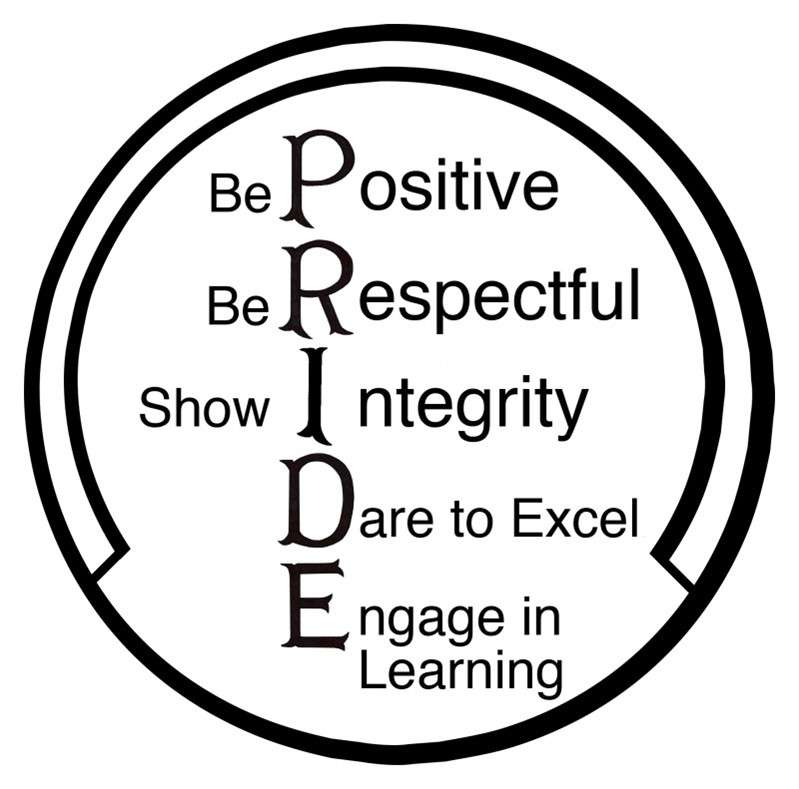 Together they form the word PRIDE and you will see this in the school emblem in various places around the school and in our newsletters.
We believe, that by using these values we will create a school where everyone can become the best they can possibly be. These values apply whenever you are a part of the school- this could be on a trip outside of school, in the digital environment, in the classroom or when you are having lunch. People in the community may acknowledge you doing the right thing as well as teachers as well as PB4L mentors from year 12 and 13.
In classrooms, students have the right to learn without interruption from others. Our school discipline system is underpinned by PB4L, Positive behaviour for learning. Our school has 5 expectations that will be clearly displayed and explicitly taught to students. It is expected that staff will acknowledge positive behaviour using the school acknowledgement system.
Should a student's behaviour disrupt learning, the PB4L steps for intervening with inappropriate behaviour will be followed.
One such step might include removing a student from class, using a process called a 'referral'. Students; will be given a form (like the one below) that identifies the behaviour that lead to them being referred and are expected to present themselves to the referral room for processing, which will include contact with a parent or caregiver.
The referral room is located in F9.
Note: after three referrals in a term, parents or caregivers are called in to the school for a meeting with both you and your Dean.
Outside the classroom we expect all members of the school community to show good sense, courtesy, co-operation and consideration. Behaviour expectations are outlined in the PB4L PRIDE values. Students must stay within bounds, dress correctly, travel safely and be drug free.
It should be noted that the Principal has statutory power under the Education Act to stand down or suspend from attendance any student in serious breach of School Rules. In such cases the Principal (or Associate Principal) will directly contact parents or caregivers. The Discipline Committee of the Board of Trustees has the power to reinstate a student, to exclude a student, or to expel a student who is over 16 years of age.
Students appearing before a Disciplinary Committee meeting may be accompanied by their parents, caregivers and any other family adviser. The Kaumatua of the local Maori community and leaders of other cultural groups are available to act as support persons if requested by the student or the family concerned.
Consider Others
Everyone has the right to be treated with courtesy and respect, therefore:
In the classroom PB4L values and expectations apply.
Around the school the following are not acceptable: offensive language (swearing, name-calling, put downs, sexist/racist/ageist remarks), offensive behaviour (gesturing, spitting, fighting, bullying, threatening), inappropriate social behaviour, possession of or threatening to use offensive weapons.
No cellphones, ipods or other electronic devices may be used in class, unless with teacher permission.
Be At School
Regular attendance is essential for learning and the development of routines
Students will be present for the whole day unless they are ill, bereaved or have special permission the Principal to be absent.

If a student has been away, parents should phone the school the morning the student is away, a note signed by the parent or caregiver must be brought to school on the day of return, stating the dates and reasons for absence. This should be brought to the Student Office. Unexplained absences will be followed up by the Attendance Bursar. If a student is absent for more than three days for medical reasons a medical certificate may be requested.
Be On Time
Being on time shows integrity and is an expectation of all students at Papanui High School. Junior students are held in for 15 minutes after school if they are late for class. This is recorded in the form-class log book and students remain behind with their period 6 teacher.
Stay Within The Bounds
Because the law makes us responsible for you, we need to know where you are,

Therefore:

Students must remain in the grounds during the school day unless they have written permission to leave or hold seniors' privileges.

out-of-bounds areas include: cycle stands, cricket pavilion, parking areas, specialist rooms and other specifically designated areas, unless permission has been given to go there.

Locker bays are out of bounds during class times.

During wet or cold weather lunch hours, designated areas will be open for students.

Y9-10 students use J block, Y11-12 students use the Hall. Students will show respect and integrity when using these areas by putting rubbish in the bins provided and showing responsible behaviour in these spaces.

Rooms, particularly specialist rooms, are to be entered only when staff arrive unless specific approval has been given.

The front of the school, south of the Administration block driveway is out of bounds for all students except Year 13 and Kimi Ora students, unless students are under staff supervision or arriving at or leaving school.
Take Care Of Your Own Property And Respect Other People's Property
We all have a right to expect our property to be safe at school,
therefore:
All clothing and personal property will be named

Students must register their BYOD with the computer technician. All devices are the responsibility of the student, who must keep them safe, both online and physically. The school is not responsible for damage or loss to cell phones, computers or other digital devices.

Large sums of money must be left at home or handed in at the main office for safekeeping.

Bicycles must be securely locked. (and a record kept at home of frame numbers etc).

Property that does not belong to you must not be touched without permission.

School lockers used by students must be locked.
Look After Our School
We all have the right to live in pleasant surroundings, so we make every effort to keep the school a pleasant attractive place for all of us,
therefore:
We show respect by taking care of our grounds, buildings, furnishings and gardens. We show responsibility by putting our rubbish in the bins provided inside and outside.

We show integrity by using school equipment correctly and taking responsibility for our actions if anything goes wrong or we break something.
Breakages of school property must be reported to the Executive Officer immediately.
The school has a number of security cameras around the school to protect people and property. Students' privacy is protected and strict guidelines are adhered to.
Travel Safety
The school is concerned about the safety of students on their way to and from school. We show respect to other users of cycle-ways and pathways by keeping left and giving way appropriately,
therefore:
Students will obey traffic regulations.

Cycle helmets will be worn to and from school.

Students must walk their bicycles, skateboards and scooters between the cycle way gate and the end of H block (for Health & Safety reasons). Bicycles will be left in the stands provided and should be locked at all times. Skateboards and scooters must be locked away in the cupboard provided at the end of H block.

Permission must be obtained from the Deputy Principal to bring any motorised vehicle to school, please note students may not park in school grounds or the grounds of local commercial premises.

Passengers may be carried only with permission of the parent/caregiver of the driver and the passenger(s) and the driver must have a full licence.
Be Drug Free
Cigarettes, alcohol, solvents and drugs (except those prescribed for your personal use), are prohibited on the school grounds or at any time when a student can be identified as a member of the school. Being a part of a group using these substances means a student will be treated as an offender.
Cell Phones And BYOD (Bring Your Own Device)
Students must register their BYOD with the computer technician. All devices are the responsibility of the student who must keep them safe both online and physically. The school is not responsible for damage or loss to cell phones, computers or other digital devices.

Cell phones may only be used in class with the permission of your teacher. You may not use your cell phone for communication during class unless a specific situation allows. This would need to be negotiated with the class teacher at the beginning of the period. If you continue to infringe this rule a teacher will warn you that you are breaking the school rules and then the technological device will be taken from you.
The general rule for confiscated cell phones, ipods and the like is:
First time

to be picked up from Ms Clissold(Deputy Principal) at the end of the day

Second time

somebody from home must come into school and pick it up from M

Third time

the confiscated equipment is put into the school safe for three weeks.