Kia ora,
Covid Protection Framework
The government has now implemented the Covid Protection Framework, commonly referred to as the traffic light system. This has a specific set of implications for our school which are essentially mandated. There are two parts to the system for the remainder of the 2021 school year:
Firstly, for the hours of the school day, and on-site curriculum delivery only, the school operates under Alert Level 2 (as currently designated for our region by the Ministry of Health).
Secondly, where applicable for off-site curriculum delivery, and for co-curricular activities both on-site and off-site the school operates under the traffic light system (orange, as currently designated for our region by the Ministry of Health). When being considered, two key factors influence the traffic light component: 1) outside providers wanting vaccination status declared, and, 2) the number of students involved.
We appreciate this is a very challenging space at the moment, and we are regularly seeking advice from Ministry of Education to support our decision making. I thank you for your ongoing understanding and support. I am sure you are aware, we as a school, are required to follow these public health requirements.
Further information can be found on both the Ministry of Health and the Ministry of Education's websites.
This week:
Has been a continuation of the Junior Curriculum programme, with the added addition of the final Year 10 Outdoor Education camps, where students have had an opportunity to test their skills in an authentic environment.
On Monday night I had the opportunity, and the privilege, to acknowledge and farewell Rosemary Weaver who has been a Yoga teacher in the Adult and Community Education Department for the past 36 years. Please see the article later in this edition. We are very grateful for Rosemary's contribution to our wider community, and thank her for her commitment and dedication throughout this time.
I would like to thank and acknowledge our junior school for their contribution to Work Day on Tuesday afternoon. The early indications are extremely positive in respect to the money fundraised. Each year the school aims to raise $10,000 to actively support the Teenager Room at Ronald McDonald House.
Two weeks of the NCEA external examination programme have now been completed. This is the half way mark of the examination process time. I hope the exams have been going well, and no doubt the students will be looking to their completion of these, with the final day for exams being the 15th December.
Congratulations to our junior Theatresports team who won this year's Christchurch Junior Theatresports competition at the Court Theatre last weekend, and to our Boys' Hockey team who were awarded the Community Team of the Year award at the Canterbury Hockey Awards.
Ngā mihi nui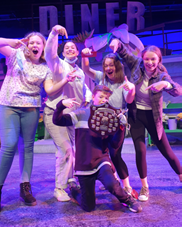 Jeff Smith
Principal
Share this article: