Kia ora,
This week saw the delayed start of the NCEA external examination programme. I am sure our senior students will have been pleased to be getting this process underway, and over the next four weeks will complete, what once again, has been a challenging year.
Year 9 and 10 have this week settled into the Junior Curriculum Initiative programme. So far, this appears to be going well, and we will look forward to feedback from staff and students at its conclusion.
On Thursday the school participated in the fourth and final PPTA Accord Day for 2021. I would like to thank our community for their understanding, as the school needed to be closed for tuition to allow our staff to engage in the Professional Development linked to the future changes for NCEA. There are four Accord Days scheduled for 2022.
Property Update: This week contractors successfully moved four of the F Block classrooms to their new temporary location on the fields. Over the holiday period the classrooms will be re- connected with services, and access decking installed ready for use, day 1 next year.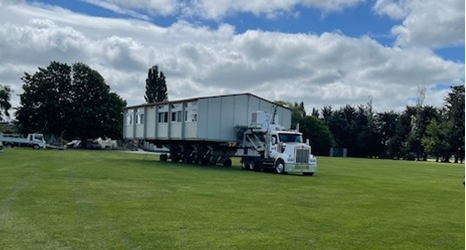 Congratulations to the two Hip Hop crews who competed at the NZCAF Hip Hop Nationals last Saturday, the small crew placed 3rd in their division, and 'Envy' placed 4th in the Megacrew division.
Next week, will see the second group of Year 10 Outdoor Education Camps take place, Work Day on Tuesday afternoon, and the start of the process of welcoming in our Year 9's for 2022, with transition interviews held throughout the week.
Ngā mihi nui
Jeff Smith
Principal
Share this article: