Kia ora,
Thank you for your continued support for Papanui High School as we navigate through the peak of the Omicron outbreak in the Canterbury region. We appreciate that it can be a difficult time for families who have to isolate or who have a number of cases in their households.
Our numbers of cases have varied each day but trends include higher case numbers being reported on a Monday after weekend activities and senior students being the majority of the cases. Having said that we have welcomed a significant number of students and staff back from isolation this week who have 'slotted' back into their classrooms. Other days have been single figures which does suggest that there is no wide-spread transmission at school. Household contacts account for more absences than positive cases.
Thank you for your support of the rostering home process. This has made a significant difference to our ability to manage our on-site learning through staffing the classes. This has also enabled our teachers time to work online with students who have been required to isolate at home.
A reminder that when your student(s) is at home for their day, they will have been set work that they can do with or without a device. There will be no Google Meet or teacher contact on the rostered day home.We will be seeking feedback as we review our Week 7 and 8 teaching and learning programme, with the aim to inform our community of any potential changes. Rostering home will continue next week exactly the same as this week. The table below shows which year level will be rostered home each day. For the other four days, students will attend as normal.
| | | | | |
| --- | --- | --- | --- | --- |
| Monday | Tuesday | Wednesday | Thursday | Friday |
| Year 12 | Year 10 | Year 11 | Year 9 | Year 13 |
If you are unable to supervise your student at home on their rostered day off and you need them to come to school please telephone the school office on 352 6119.
Covid reminders
If a student or someone in their household tests positive for Covid please email [email protected]
Students who have had Covid can return to school on Day 8 of their isolation. They do not need to have another test to return to school
Students who are household contacts should stay home for 7 days from the day the first person in the house tests positive for Covid. All family members should test on Day 3 and Day 7. Provided a student tests negative, they can return to school on Day 8.
PLEASE NOTE: Students and staff who test positive for Covid are not required to self-isolate past seven days under public health regulations, but they should not return to school if they are still feeling unwell.
In line with Ministry of Education advice we are committed to keeping school open for on-site learning as much as we can. We are keeping a constant eye on the situation, and will continue to provide you with updates as appropriate. We would appreciate if you could please keep notifying us of any positive Covid cases or household contacts by emailing [email protected]
Ngā mihi nui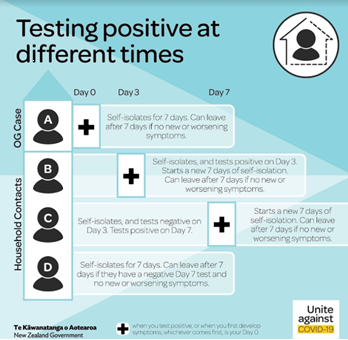 Jeff Smith
Principal